Ph.D., Chief Scientific Officer, Mission Bio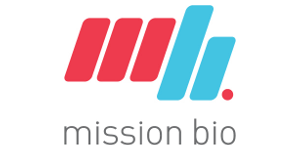 Biography
Dr. Eastburn has a track record of pioneering microfluidic technology for the analysis of cellular heterogeneity. At the University of California, San Francisco (UCSF), Dr. Eastburn led development of the core IP that is foundational to all of Mission Bio's products. After starting Mission Bio, he invented the approach for high-throughput single-cell DNA sequencing and applied it to applications in oncology and genome engineering. Dr. Eastburn has authored over 20 peer-reviewed publications and has secured numerous NIH grants for Mission Bio.
Genomic Profiling Showcase: Mission Bio
Mission Bio develops genomics tools to better understand clonal heterogeneity and deliver on the promise of precision medicine.
Moving from Bulk NGS to Precision Sequencing with Single-Cell Genomics
To improve our understanding of cancer, we need insights into clonal architecture and evolution. The Tapestri Platform enables precision sequencing with sensitive identification of co-occurring mutations within subclones that drive disease – information not possible with bulk NGS measurements.