The Precision Medicine World Conference (PMWC), formerly known as the Personalized Medicine World Conference, is an independent and established conference series considered to be the preeminent precision medicine conference that attracts recognized leaders, top global researchers and medical professionals, and innovators across healthcare and biotechnology sectors to showcase practical content that helps close the knowledge gap between different sectors, thereby catalyzing cross-functional fertilization and collaboration. Since 2009, recognized as a vital cornerstone for all constituents of the health care and biotechnology community, PMWC provides an exceptional forum for the exchange of information about the latest advances in technology (e.g. DNA sequencing technology), in clinical implementation (e.g. cancer and beyond), research, and in all aspects related to the regulatory and reimbursement sectors.
The conference format consists of two main tracks (1 and 2) and two parallel tracks (3 and 4). Tracks 1 and 2 include sessions by leaders in the commercial, pharmaceutical, academic, government, regulatory, venture capital, and non-profit arenas that deliver a broad and up-to-date array of content across the various facets of precision medicine. Session discussions focus on time-relevant aspects with a selected set of key stakeholders, while commercial sessions cover the latest developments in technologies that are instrumental for the success of further adoption of precision medicine.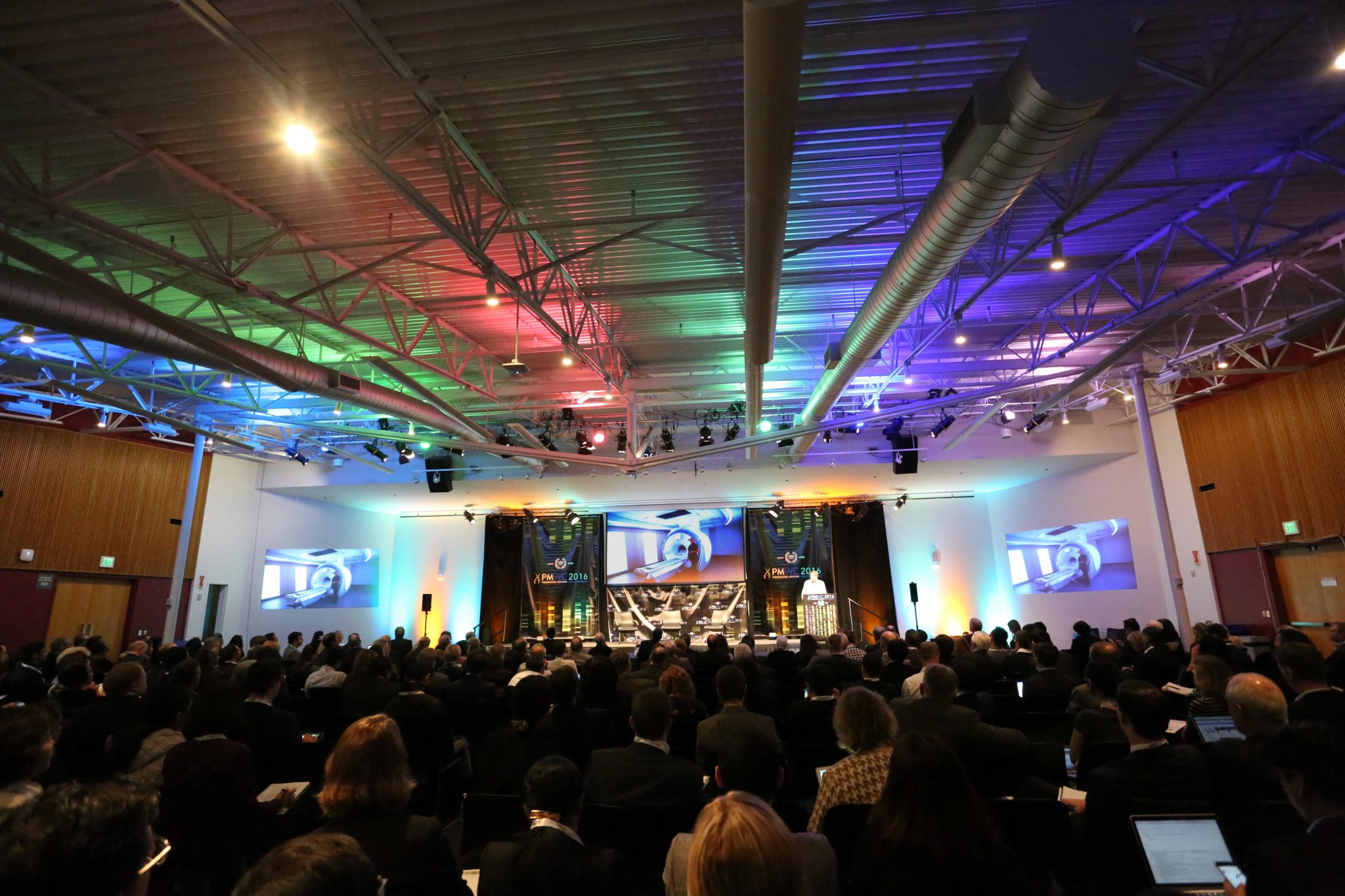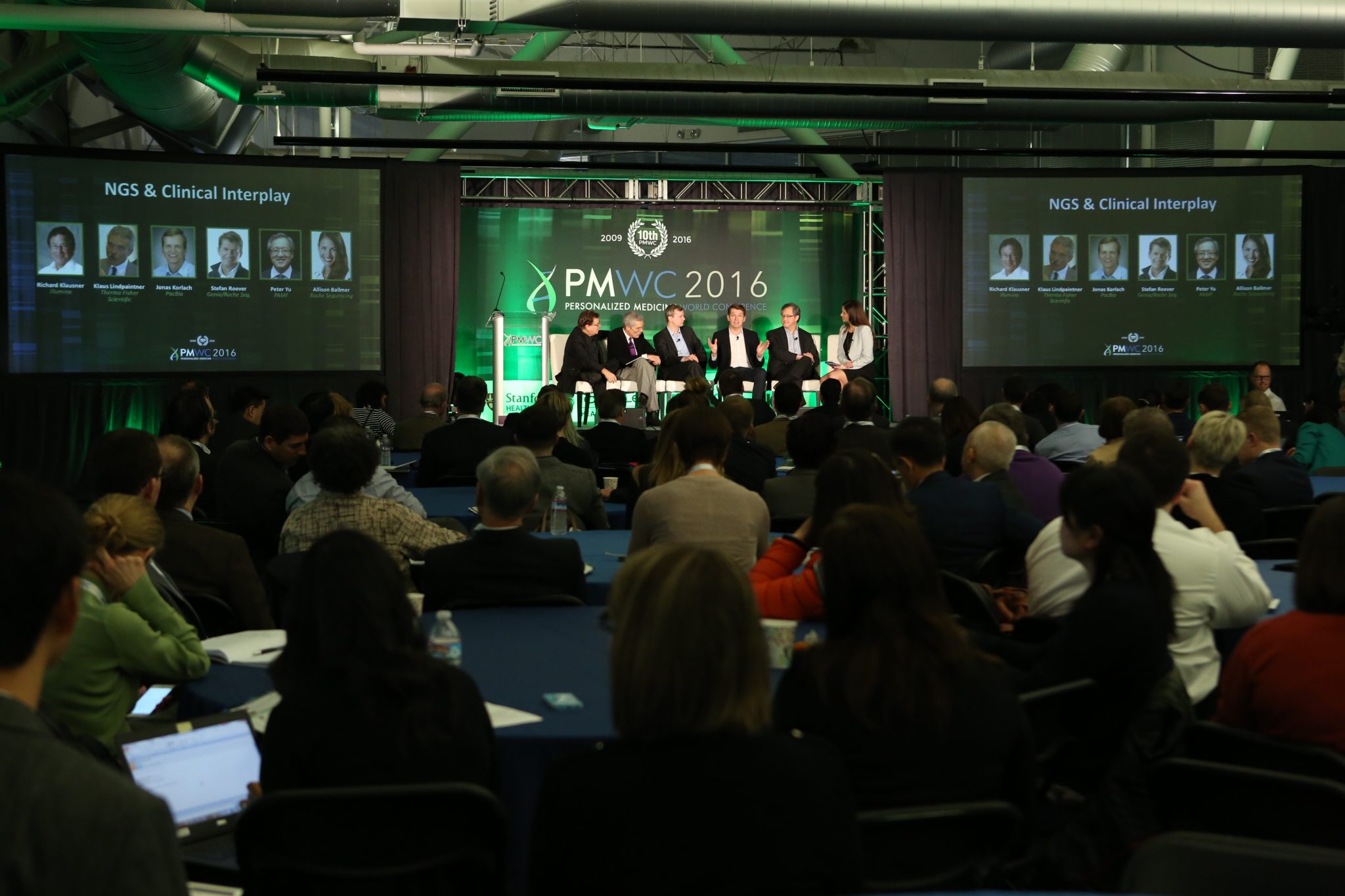 In parallel Tracks 3 and 4, the "Most Promising Company Competition" segment identifies "rising stars" startup companies in the area of diagnostics, therapeutics, and health tech via a platform that includes leading investors. Additionally, companies and research institutions can promote their platforms, launch products, and share research developments to a targeted audience.

Since 2010 PMWC has recognized individuals who have played a significant role in transforming health care by advancing precision medicine in the clinic with the Luminary and Pioneer Awards. The honorees' numerous technological and scientific contributions have expedited this transformation as demonstrated by the clinical adoption of precision medicine, and the ongoing introductions of novel clinical applications. For a deeper look into the fascinating achievements of our past awardees see the awards page.
Past Participants (~50,000 contacts)
2bPrecise
3rdMountain, LLC
3Scan
5AM Solutions

5AM

Ventures
5 Degrees Biosciences, Inc.
5 Prime Ventures
7Health Ventures
10x Genomics
10XTechnologies
12 Stones Media Group
20/20 Gene Systems
23andMe
A. Alfred Taubman Medical Research Institute
A*Star
A2 Health Hacks
A2IDEA
A4anesthesia.com
AAAS
AACR
AAD Health
Aalto University
Abaxis
Abbott Laboratories
Abbott Molecular
AbbVie
ABC News
Aberdare Ventures
Abion
ABL TherapyEdge SA
Abogen
AbPro
Abpro Labs
Abreos Biosciences
Abu Dhabi Investment Authority (ADIA)
AC Camargo Cancer Center
AccelDx
Accelerated Medical Diagnostics
Accelrys
Accelus Health Partners
Accenture Strategy
AccessDNA
AccuGenomics
Accumen, INC.
AccuraGen
Acerta-Pharma
ACD Bio
ACOR
Acorn Campus Ventures
AcroMetrix Molecular Quality Controls
Acron Cell LLC
Active Motif
Adaptimmune LLC
Adaptive Bio and Labcorp
Adaptive Biotechnologies
Adarza BioSystems
Addario Lung Cancer Medical Institute
AdderStone Predictive Analyt.
Addi & Cassi Foundation
Admera Health LLC
Aduro Biotech
AdvaMedDx
Advanced Cell Diagnostics
Advanced Diagnostic Services
Advanced Individual Medicine (AIM)
Advanced Technology Ventures
Advantest/Oncotest-TEVA, Teva
ADVI
Aerospace & Marine
Aethlon Medical
Aetna
Affimed
Affinergy
Affymetrix
AGC America, Inc.
Agena Bioscience
Agendia
Aggio Partners Limited
Agile SDE
Agilent Technologies
Agility Bio
Aging2.0
A.I.Evdokimov Moscow State Medical & Dental University
AI Medicine News
AimMax Therapeutics Inc
Ajinomoto North American Research & Innovation Center
Akesis Solutions LLC
AKESOgen, Inc.
Akonni Biosystems
Albert Einstein Medical School
ALCMI/BJALCF
Aldatu Biosciences
ALDEA Pharmaceuticals
Aleo Capital
Alexandria Venture Inv
Alice Communications
AliveCor
All of Us, NIH
All4Cure
AlleCures Inc
Allergan
Allscripts
AllSeq
Almac
ALN Associates
Alpha Genomix Labs
Alquest Therapeutics
ALS Emergency Treatment Fund
Alta Bates Summit Comprehensive Cancer Center
Alta Devices
Altis Biosystems, LLC
Altoida Inc
AltheaDx
Alumot – sprint
Alzheon
AMA
Amazon Web Services
Amber Health
Ambry Genetics
Ameba Marketing
American Association for Cancer Research
American College of Cardiology
American College of Surgeons
American Journal of Health-System Pharmacy
American Medical Assoc.
American River College
American Society of Health-System Pharmacists
American Society of Hematology
American Technion Society
American Wellness
Amgen, Inc.
AMI
AMIA
Amicour IP Group, LLC
AMIX
Amplion Research Inc.
AMT Care
Analysis Group
Ananya Bionetworks LLC
Ancestry DNA
Ancestry.com
Anderson Cancer Center
ANGLE, plc
Angular Medicine
Anima
Annai Systems, Inc.
Anthem Venture Partners
Antidote
Aperio
Aperiomics
Aphelion Ventures
Aposense
Appception, Inc.
Appistry
Apple
Apple Tree Partners
Applied Immune Technologies
Applied Materials
Applied Microarrays
Applied Proteomics
Applied StemCell
APT Life Sciences
Apton Biosystems
Aptus Clinical
AQLS, Inc
Aqua Partners LLC
Aquilo Capital
Aragen Bioscience
Arbor Res. Collab. for Health
Arboretum Ventures
Arborsense
Arc Bio
Arcascope
ArcherDX
Archimedes
ARCH Venture Partners
Arcus Biosciences
Arcxis Biotechonologies
Ardigen
Ardigen S.A.
Arent Fox LLP
Argos Therapeutics, INC
Ariel Precision Medicine
Arima Genomics
Ariosa Diagnostics
Artiman Ventures
Arivale
Arizona State University
Arizona State University – Biomedical Diagnostics
Armetheon, Inc
Arnold Foundation
Array Science
Arrow
Arsanis
Artemis Health
Arterys
ARUP
Arvey Consulting
AS Ventures
Asan Medical Center
ASCO
Ashion AIM
Aspen Institute
Assaf Harofe Medical Center
Assay Depot
Assistyx LLC
AssureRx Health
Assuta Hospital
Astellas Pharma.
Astellas Venture Management
Asterand
ASTRA Venture Partners
AstraZeneca
Astrid Bio
Asuragen
Athelas
Athena Breast Health Network
Athena Diagnostics
Atila BioSystems, Inc.
Atlantic Monthly
Atomo Diagnostics
Atomwise Inc
Atossa Genetics
Atreca
Atyra Bio
Audentes Therapeutics
Augurex Life Sciences Corp.
Augusta University
AUM LifeTech, Inc.
AUREC
Aurum Holdings MKI Ltd
Autism & Dev. Med., Geisinger
Autonomous_ID
Auxogyn
Avalere Health
Averigon
AvidBiotics
Axio Research
Ayasdi
Ayrad Investments Ltd.
Azya
B.G. Negev Technology
Babson College
BackFlip Software
Baebies
Bamboo Therapeutics (Pfizer Subsidiary)
Bar Ilan University
Barbaresco Pharmaceuticals
Barclays Investment Bank
Barker Brettell LLP
Base Pair Group
Base4
Basegenes
BaseHealth
BASETRA
BATM Advanced Communications Ltd.
Bavarian Nordic
Bay Area entrepreneurs (Stat)
Bay City Capital LLC
Bay Labs
BayBio
BayBiotech Review
Bayer AG
Baylor College of Medicine
Baylor Miraca Genetics Laboratories
Baylor Scott and White Health Care System
BayPoint Biosystems
BAYS
BC Platforms
BCBS NC
BCI
BD Biosciences
BD Technologies and Innovation
BDC Capital
Beaufort, LLC
Beckman Coulter
Becton Dickinson
BeiGene
BeiGene USA, Inc.
BeiGene, Ltd.
Beijing ACCB Biotech Ltd.
Beijing Children's Hospital
Beilinson
Bellicum Pharmaceuticals
Ben Gurion University
Berg Health
Berkeley Ageing Research Fdn
Berkeley HeartLab Inc.
Berkeley Lights
BestBio
Best of Organic
Best Sensors
Bet Ekstein
Beyond Basics MP
BGI
BGN Technologies ltd
BI Pharma GmbH & Co. KG
Big Science Media/Genome magazine
Big3Bio
Bina Technologies
BioAge Labs
BioAgilytix
Biobase
BioBlast Pharma
BioCancell
BIOCANT
Biocare Medical
Biocartis
BioCentury
Biocept
BioCeryx Inc.
BioChain
BIOCRATES Life Sciences AG
BioCrypton
BioCryst Pharmaceuticals
BioCurious
BioCycive
Biodesix
Biodesy
BioEclipse Therapeutics, Inc.
BioDyn Co., Ltd.
BioEquities Consulting
Bioforum
Biogen Idec
Biogenetika
Biognosys AG
BioInfleXion Point
BIoinformative
Bioclinova
Biognosys
BioLineRx
Biological Dynamics
BioMarCare Technologies
Biomark Capital
BioMarker Pharmaceuticals, Inc.
BioMarker Strategies, LLC
biomaRx Therapeutics
Biomatrica
BioMedica Diagnostics
Biomedical Engineering, University of Oxford
BioNano Genomics
BioNanomatrix
Bioneer
BioNegev
BioNTech
BioPacific Investors
Biophase Systems
Biophysics Research Group, Inc.
BioQuest, LLC
BioQuick News
Bio-Rad Laboratories
Bio-Rap Technologies
BioReference Laboratories, Inc.
BioScale
BioSciKin Co. Ltd.
Bioscribe Inc.
Biosearch Technologies
BioStat Solutions
BioStorage Technologies
Biotech Consultant
Biotech Partners
Biotechnology Industry Organization (BIO)
BioTime Inc
BioVariance GmbH
Biovest
Bioview
Bio-X
BIRD Foundation
Birmingham CTU
BizTEC
Blood Systems Research Institute
Bloomberg Bureau of National Affairs
Bloomberg Law
Bloomlife
Bluebee
BlueChair Group
Blue Cross Blue Shield Association
Blue Fin Group
Bluelight Cinemas
Blueprint Genetics
Bluestar Genomics
BlueWave Medicine
BMS
Boehringer-Ingelheim
Box Inc.
Boehringer Ingelheim
Bonei Olam / FMCNA
Bonnie J. Addario Lung Cancer Foundation
Boreal Genomics
Bosch Research and Technology Center
Boston Consulting Group
Boston Healthcare
Boston Heart Lab
Brain Resource
Brainstorm Cell Therapeutics
Breakout Labs
Breakout Ventures
Breast Cancer Action
Breast Cancer Connections
Breast Sci Advocacy Core, UCSF
Brigham And Women's Hospital
Bristol Myers-Squibb
BRM Group
Broad Institute
Brooks Automation
Brooks Life Sciences
Brown Legacy Group
Bruce Quinn Associates, LLC
Buck Institute for Research on Aging
Bullet Bio
Burd Health
Burns McClellan
Burr Pilger Mayer
Burril & Company
Burroughs Wellcome Fund
Businessweek
Bustamante Lab, Stanford University
Buzzfeed
C.A.R.E.
C. P. Consulting
C2R Corp
C4L
Cabinet Secretariat, Office of Medical innovation, Japan
CA Department of Public Health
CA State Board of Equalization
Caldwell Partners Intl.
Calico
California Applied Biotechnology Centers
California Life Sciences Association
California School of Herbal Studies
Callida Genomics
Calsoft Group
CalTech
Cambridge Associates
Cambridge BioPartners
Cambridge Epigenetix
Cambridge Healthcare Ltd.
Cambridge Healthtech Institute
Campbell Alliance
Campus Bio
Canaan Partners
Canaccord Genuity
Canalys
Canary Foundation
Cancer Commons
Cancer Genetics Inc.
Cancer Hope
CancerLinQ
Cancer Moonshot Task Force
Cancer Research UK
Cancer Solutions
Cancer Treatment Center of America
CancerDx
Cannuflow, Inc.
Canon Med. Research Europe
Canon U.S. Life Sciences
Canterbury Health Laboratories
Cantilever Business Partners
Cantor Fitzgerald
Capella Bio
Capital Group
Capital One Labs
Caprion Proteomics
Cardinal Health
CardioDx
Cardiovascular Medicine, University of Oxford
CARE Consulting
CareDx
CareFusion
CareNav, Inc.
Caribou Biosciences
Caris Life Sciences
Carlino Consulting
Carlton Fields
Carmel Ventures
Carmenta Bioscience
Carnegie Institute, Johns Hopkins University
Carol Simmons Consulting
Carrick Capital
Casdin Capital LLC
CASMI
Catholic Health Initiatives
Catholic University
Cato Research Ltd.
CAV Systems Ltd
CBS
CCS Associates
CCU Carmel Medical Cntr
CDx Precision Health
CEA
Cedar Associates
Cedars-Sinai Health
Cedars-Sinai Medical Center
Celcuity
Celemics
Celera
Celgene Corporation
Celgene Quanticel Research
Cellecta, Inc.
CellMax Life
Cellnetix
Cellogy Inc.
Celltrion, Inc.
Cellular Research, Inc.
Cellworks
Celmatix Inc
Celula Inc.
Celyad
Center for Advanced Individual Medicine at Cancer Treatment Centers of America
Center for Biomolecular Science & Engineering, UCSC
Center for Biophotonics, UC Davis
Center for Drug Evaluation and Research, FDA
Center for Genomics and Personalized Medicine, Stanford University
Center for Personalized Healthcare Cleveland Clinic
Centogene
Central PA Alliance Lab
Centre for Biomedical Ethics, National University of Singapore
Centre for Cellular Molecular Physiology, University of Oxford
Centre for Personalised and Precision Health / National University Health System
Centre for Personalised Medicine, University of Oxford
Centrella Therapeutics, Inc.
Centrillion Biosciences
Cepheid
CEPIMP Genomics Argentina
CEPMED
Cerner
Cernostics
CFIDS Association of America
CGAT / University of Oxford
Champions Oncology
Chan Zuckerberg Initiative
Charlotte Center City Partners
Charter Life Sciences
Chasm Partners
ChemGenex Pharmaceuticals, Inc.
ChemoCentryx
CHI-California Healthcare Institute
Chiesi Farmaceutici
Child Health Research Institute Stanford
Children's Hospital Los Angeles
Children's Hospital Oakland Research Institute
Children's Mercy Hospital
CHLA PM Center
Chord Consulting Services
ChromaCode, Inc.
Chronix Biomedical
CHU Sainte-Justine
Chundsell Medicals AB
Chung-Ang University
CIAPM
Ciitizen Corp
CIO
Cipherome, Inc.
CIRC
Citala
City of Hope
City of Paris, Inc.
Civic Center Pharmacy
Clalit Health Services
Claremont Creek Ventures
Claritas Genomics
Clark + Elbing
ClosedLoop.ai
Cloud Pharmaceuticals
Cloudera
Clear Genetics Inc.
Clearbridge BioMedics
ClearLight Diagnostics
Clearsense, LLC
Clearview GrantEngine
ClearView Healthcare Partners
Cleave Biosciences
Cleveland Clinic
Clinical Cancer Genomics Laboratory, UCSF
Clinical Future
Clinical Metabolomics (ClinMet)
Clinical OMICs
Clinical Persona, Inc.
Clinical Reference Laboratory
Clinical Utility Consulting, LLC
Clinimetrics
Clinithink
Clinoson
Clontech Laboratories Inc.
Cloudera
CloudMedx
Clovis Oncology
CLSA
Clusterk Inc
CMEA
CMS
CNBC
CNRS
CNSDose
Codexis
Cofactor Genomics
Cognoa
Coimbra Genomics
Colabrativ Inc.
Colby Pharmaceuticals
Collaborative Drug Discovery
CollabRx, Inc.
College of Pharmaceutics, University of Florida
College of Pharmacy, Yonsei U.
Color Genomics
Columbia University Systems Biology
Columbine Federal Credit Union
CombiMatrix
CombImmune
Comite PM & Health
Commvault
Companion Diagnostic Solutions
CompanionDx Reference Lab
Compendia Bioscience
Complete Genomics
Compugen
Computational HS Inst., UCSF
Computational Bio Tech
COMTECMED
Congenica
Congral
Conrad H. Hilton Foundation
CONSPECT Ltd.
Constellation Research Group
Consulate General of Canada
Consulate General of Luxembourg
Consumer Reports / Consumers Union
Continuum, LLC
Convexa
Corcept
Core Informatics
Coriell Institute for Medical Research
Cornell University
Cornerstone Pharmaceuticals
Corning Hospital
COSBI
CosmosID
Cota
Counsyl
Cowper Street Angels
CPAL
CP Consulting
CPIC
CPMC Research Institute
Cranfield University
Crescendo Biosciences
CRISPR Therapeutics
Critical Diagnostics
CRL
CROSIT
Crosslink Capital
Crosswave Management
Crowdfundingcures
CrowdMed
Crystal Genetics
CSL Behring
CSM
CSR
CSU Stanislaus
CTCA
CTCA/SRMC
CTD Pharma
Ctr. for Genomic Interpretation
CTrials
CTRU
Cupron Inc
Cure Forward
Curegenix
Cureline
CureMatch
CureMetrix
CureOne
Cureus
Curewize Health Ltd.
Curious
CVS Pharmacy
Cynvenio Biosystems
Cypher Genomics
Cytobank Inc.
Cytolon AG
Cytomag
CytomX Therapeutics
CytoReason
CytoReason/Technion
Daiichi-Sankyo Development Ltd
Dana-Farber/Harvard
Danaher Corporation
Danish Health Ministry
Danyel
DAP Medical Innovations
Dartmouth Hitchcock
Da-Ta Biotech
Data Collective
Data2Discovery
Data4Cure
DataSpeaks, Inc.
Datavant
Dategra, Inc
David Geffen School of Medicine, UCLA
Davis Phinney Foundation
Day Zero Diagnostics, Inc
Dayi Capital
DayTwo
dbMotion
DCG Systems
DCM
DCRI, Clinical Research Informatics
DCVB
DCVC
DDN Storage
De Novo Analytics
Deakin University
Deallus Consulting
Deane F. and Kate Edelman Johnson Professor of Law
DeciBio Consulting
Declarity
deCODE Genetics
Deep Knowledge LS
Deep Knowledge Ventures
Deepcell
Deepath Medical
Deepwave Technologies
DEKK-TEC, Inc
DEL BioPharma
Delegation of the European Union
Dell
Dell EMC
Dell Healthcare
Department of Oncology, Oxford University
Department of Veterans Affairs
Dermala
Dharmacon
DHHS/OCR Region IX
DHMRI
Dhristi
DiaCarta, Inc.
Diaceutics Group
Diadexus
DiagCor Bioscience Inc. Ltd.
Diassess
diavacs
Diffusair
Digisense
Digital Biology Center, Bio-Rad Laboratories
DigitalDx Ventures
Dignity Health
DigiTx Partners
Discover magazine
Discovery Biosciences
DMPI
DNA Direct
DNA Electronics
DNA Genotek Inc.
DNA Guide
DNA Software, Inc
DName-iT
DNAnexus
DNA-SEQ
DNL Inc
DNV GL
doc.ai
Doctella
Dohmen
Domain Associates
Double Helix LLC
Douglas Solomon Consulting
Dovetail Genomics
Dow Jones VentureWire
Draper Fisher Jurvetson
Drawbridge Health
Drishti AI
Drive Capital
Driver Genomics
Droplet Diagnostics
DSS Inc
Duke
Duke – Science & Society Initiative
Duke Cancer Institute
Duke Cardiovascular Research Center
Duke Center for Applied Genomics & PM
Duke Clinical Research Institute
Duke Department of Molecular Genetics and Microbiology
Duke Health Technology Solutions
Duke Medical Center
Duke Molecular Physiology Institute
Duke Office of Licensing & Ventures
Duke PDC
Duke Pediatric Rheumatology
Duke Population Health Sci.
Duke School of Medicine
Duke School of Medicine, Global Health Institute
Duke Univ Med Ctr/Molecular Genetics and Microbiology
Duke University
Duke University – Pediatrics
Duke University Dept. of Medicine
Duke University Medical Center
Duke University School of Medicine
Duke University/Tim Reddy Lab
Duke- Science & Society Initiative
Durham Tech
DVS Sciences
Dx Economix
DxTerity Diagnostics
Dyn Diagnostics
Dynamic Ventures, Inc.
DynamicBio
E P Systems
EA|Quintiles
EA Genomic Services Q2 Solutions, Quintiles Quest Joint Venture
EarlySense Ltd.
Easton Associates
EBioMedicine
EB-Lizenzverwertungs GmbH
Echo Health Ventures
Edgewood Venture Partners
Edico Genome
Edison Pharmaceuticals
EDMA
Edventure Holdings
EFL Associates
eFuturist
EGeen International
EJS Health Solutions
Eisai
El Camino Hospital
Elekta
Eli Global
Eli Lilly
ELIGO BIOSCIENCE
Elim Biopharm
Elixior
ElMindA
Elsevier
Elysium Health
EMBL (European Molecular Biology Laboratory)
EMC Emerging Technologies Division
EMC2
EMD Millipore
EMD Serono
Emedgene
Emerald Therapeutics
Emerson Collective
Emory University
Emulate Bio
Encompass Bioscience
Endocyte
Enlighten Bio
Entelos Inc
Enterprise Partners Venture Capital
Entrepreneurship Ctr. at UCSF
Envision Genomics
EPEMED
EpiBiome
Epic Sciences
Epiphany Partners Inc.
Episona
Epistem
Equal Employment Opportunity Commission
Erasmus MC
ES LABS
Esoterix Coagulation – LabCorp
Essential Health Solutions Inc
Eterly
Ethan Knowlden
e-Therapeutics
ETL Healthcare
Etubics Corporation
Euclid Diagnostics
Eurofins, DiscoverX
European Commission
EverGene Ltd
Every Breath I Take Blog
Evidation Health
Evolvence India Life Science Fund
EW Healthcare Partners
Ewha University
Ewha Womans University
Exact Sciences
Executive Biosearch
Exelixis Inc
Exosome Dx
Experimental Therapeutics Centre & D3, A*STAR
Experimind
Exploit Technologies
Exponent
Express Scripts
Expression Analysis, Inc.
Exscientia Ltd.
Exsede
Exxclaim Capital
F.Hoffman La Roche
Fabric Genomics
Fahy Gurteen Laboratories
Fairfax County EDA
Falcon Computing
Faridan
Farsight Genome Systems
Fast Company
FDA
FDNA
FedCentric Technologies, LLC
Federated Kaufmann Funds
Fenwick & West
Ferris State University
Fernandez & Associates, LLP
FibrosIX LLC
Fidelis Diagnostics
Fidelity Investments
Finpro
Fir Tree Partners
First Flight Venture Center, Inc.
First Moscow Medical University
FitNet Labs
Five Prime Therapeutics
Flagship Pioneering
Flatiron Health
Flextronics
Florida Hospital
Fluidigm Corporation
Fluxion Biosciences
Folio Biosciences
Foliugo Therapeutics Inc.
Foresite Capital
Fortune Magazine
Forty Seven Inc.
Fondation Ipsen
Foundation Medicine
Fox Chase Cancer Center
FRANZCR
Frazier Healthcare Partners
Fred Hutchinson Cancer Research Center
Freelance
Freenome
Frequentz
Friends of Cancer Research
Frost & Sullivan
Fugene genetics
Fujifilm Medical Systems USA, Inc.
Fujitsu LTD.
Fulgent Diagnostics
Fullerton Genetics Center
Future Science Group
FutureMed, Singularity University
G2P
GACC
Gaiter and Associates
Galil Center -Technion Haifa
Galil Genetic Analysis
GamidaGen
Gamoz
Gazmos
GE Analytical Instruments
GE Healthcare
GE Ventures
Geisinger Health System
Geisinger Medical Center
Geisinger Ventures
Gelbart-Kahana Investor Relations
Gen2B
Genalyte
GenapSys, Inc
GeneCentric
GenCipher Consulting, LLC
Gene Markers LLC
GeneCentric Diagnostics
Genecloud
GeneCoda
GeneCom Group
Genection
Genedata
GeneDX
Geneformics Inc.
GeneInsight/Sunquest
Geneix
GeneMark, Inc.
Genemarkers
Genentech
Genentech-Roche
Genetech / PDQA
GenePeeks
General Electric Israel
Generation Health
Genesis DNA
Genesis Healthcare Co
GeneSolve
Genetic Alliance
Genetic Care Interchange
Genetic Engineering & Biotech News
Genetic Foresight
Genetic Profiles
Genetic Society of Israel
Genetics Institute, Soroka Medical Center
Genetics, Stanford University
Geneticure
Genetool
Genewiz
GeneYouIn
Genia Technologies
Genocea Biosciences
GenoLogics
Genomatix
GenomeDx Biosciences
Genome.one
Genome Institute of Singapore
Genome magazine
Genome Medical
Genome Medicine
Génome Québec
GenomeDx
Genomenon Inc.
Genomera
GenomeSmart Inc
GenomeWeb Daily News
Genomic Guides LLC
Genomic Health
Genomic Medicine Initiative
Genomics England
Genomics Ltd
GenomicSage
Genomind
Genomix Nutrition
GenomOncology
Genoox
Genophen
Genoprimer
GenormX
Genos Research
GenScript USA Inc.
GenoSpace
Genotox Laboratories
Gen-Probe
Gensignia
GenXys Health Care Systems
Genzyme
Georgetown University
Georgia Institute of Technology & Emory University
Gerber Angel Partners
Geriatrics, Stanford University
Geschickten Biosciences
GfK Health Care
Ghent University
Gibbs Cancer Center
Gilead Sciences
Girihlet Inc.
Giza Venture Capital
Gladstone Institutes
GlaxoSmithKline (GSK)
Gliimpse Inc
Global Health Research Foundation
Global Healthspan
Global Specimen Solutions
Globetek Science Foundation
gNetics Systems Inc
GNS Healthcare
GojiMed
Goldbug Strategies LLC
Golden Helix, Inc.
Goldman Sachs
Good AI Lab
Good Samaritan Hospital
Good Start Genetics
GoodScience, Inc.
Google
Google Brain
Google Capital
Google Ventures
Goodwin Procter
Governor of North Carolina
Governor's Office of Planning and Research
GPML (Genomic and Personalised Medicine Limited)
GRAIL
GRAMedical LLC
Grand Rounds
Great Point Partners
Greenville Health System
Grey Group Ventures, Inc.
Grimes, McGovern & Associates
Gritstone Oncology
Growing Company Solutions
Growth Ally
Grünenthal GmbH
GSK
GSK / ATOM
GSK Pharmaceuticals
GTP
Guardant Health
Guardian Research Network
H2O.ai
H3 Biomedicine Inc.
H. Lee Moffitt Cancer Center and Research Institute
Habit
Hadasit Med. Research Services & Dev. Ltd.
Hadassah Medical Center
Hahn & Bay Manage. Advisors
Hai Yan Lab, Duke University
Halloran Consulting Group
Halo Fund III
Hamilton Advisors
HANA Expertise
HANDOK
Hanson Bridgett LLP
Harel Finance
Harvard Business School
Harvard Medical School
Harvard University
Harvest Capital Strategies
Hasharon
Hashed Health
Hasso Plattner Inst.
Hattendorf & Associates
Havas Health
HBA
HBM Genomics
HCA
HCC
HCSC
Headlamp Advisors, LLC
Healarium Iinc.
Health2047
Health Care Journal NC
Health Catalysts
Health Diagnostic Lab
Health Leaders Media
Health Network Communications
Health Press Limited
Health Samurai
Health Systems informatics Corporation
Healthcare Strategies Group
HealthLoop
Healthmyne
HealthPals, Inc.
HealthPals, Inc. & Stanford U.
HealthSpan Dx
HealthTap
HealthTech Capital
HealthTell
Healx Limited
Hebrew University
Helix
Hello Doctor
Helmholtz Zentrum München
Helomics
HemoScreen
Henry Ford Cancer Institute
Henry Ford Health System
Henry Ford Hospital
Herald Sun
HHMI Stanford
High Content Research Facility; Trinity College, Dublin
High Point Clinical Trials Center
High Tech for Health
HillCo HEALTH
Hillel Yaffe Medical Center
Hinge Bio, Inc.
Hired Brains Inc.
Hitachi Chemical Research Center, Inc.
Hitachi High Technologies, America
HK Enterprises
HL7
Hoag Family Cancer Institute
Hobnob
Hogan Lovells
HolGenTech
Hologic
Home Medicine USA, Inc.
Hometown Healthcare
Hong Kong Baptist University
Hoover Institution
Hope Clinic of Emory U.
Horizon Blue Cross Blue Shield of New Jersey
Horizon Discovery
Horizon Ventures
Houston Health
Houston Methodist Research Institute
HP Inc.
HP BioPrinting
HPC Innovation Center, Lawrence Livermore National Laboratory
HPE
HPG
HPI
Hrbin Medical University
HTG Molecular Diagnostics
Hudson Inst. of Med. Research
Hughes Management LC
Humana
Human Genome Center
Human Genome Project
Human Longevity
Hunter Whitney & Associates, Inc.
Huron Life Sciences
Hybrid Medical Media Inc
HydraDx
Hygieia
Hyman, Phelps & McNamara
I.M.Sechenov First Moscow State Medical University and EPMA
Iassay
IBEX – Intl. Biotechnology Experts
iBeat
IBM
IBM Watson Health
Icahn Inst. Genomics & Multiscale Biology
Icahn School of Medicine, Mount Sinai
ICAN
Ichilov Hospital
Icon Cancer Care
ICP
IDBS, Inc.
IDbyDNA, Inc.
IDEA BIO MEDICAL
Idera Pharmaceuticals
IDG World Expo
IDSA
IDT
IEEE Computing Now
IFTF
Ignite Institute
IGNYTA, Inc.
iKaryos Diagnostics
Ilex Medical Ltd.
Illumina
Illumina Accelerator
Illumina Ventures
ImaginAb
IMEC
IMM USA
Immix BioPharma
ImmunArray
Immune Design
Immune Tolerance Institute
ImmunGene, Inc.
Immunexpress Inc
Immunocore
Immunome
Immunomic Therapeutics
Immusoft
IMPAC Medical Systems, Inc.
Imperial College
INanoBio
Inanovate
Incedo Inc.
IncellDx
Incentive
INCPM, Weizmann Institute
Incyte Corporation
Independent
India Life Science Fund
Indiana CTSI and Regenstrief
Indica Labs
Indivumed GmbH
iNDx Technology
Infigo Diagnostics Ltd
Infinia ML
Infinidat LTD
Infinitebio
Inflammatix
Inforel Technologies
Informa
InformedDNA
Ingenuity Systems
Inivata, Ltd.
Inmedix
InnoGenomics Technologies
Innovate UK
Innovation Center Denmark
Innovation Endeavors
Innovative Genomics Initiative
Innovenn Inc.
Innovo Mimetics
InnVentis Ltd
Inosight
Inova Diagnostics
Inova Fairfax Hospital
Inova Medical Group
Inova Schar Cancer Institute
Inova Translational Medicine Institute
Insight Genetics, Inc.
InSightec
Insilico Medicine
InSilixa, Inc.
Inspirata Inc.
InstantCal, Inc
Inst. for Immunity, Stanford U
Inst Human & Mach. Cognition
Institut du Savoir Montfort
Institute for Systems Biology
Institute for the Future
Institute of Cancer Research
Institute of Oncology, Davidoff Center, Rabin Medical Center
Institute of Stem Cell Biology & Regenerative Medicine, Stanford School of Medicine
Institute of the Human Brain Russian RAS
Instituto Avanços em Medicina
IntegenX Inc
Integra Holdings
Integrated Care Pharmacy
Integrated Diagnostics
Integrated DNA Technologies
Integrated Medicines Ltd
Integrated Plasmonics
Integrated Project Management
Intel Corporation
Intelligent Enterprise
IntelliMedicine
Intercept Pharma.
Interleukin Genetics
Intermountain Healthcare
Intermountain Prec. Genomics
International Cancer Advocacy Network
International School of Biomedical Diagnostics, ASU
Interpace Diagnostics
Interpreta
InterpretOmics
InterpretOmics India Pvt Ltd
Intertrust Genecloud
Intertrust Technologies Corporation
Intervention Insights
InterWest Partners
INTICA Biomedical
Intomics
Intuitive EHR
Inventages Venture Capital
Invetech
Invest Michigan
Investor
Invitae
Invivoscribe, Inc
IO Informatics Inc
Ion Torrent/Life Tech
iPierian
IPS
IQVIA
IR2Dx, Inc.
iRhythm Technologies
Iris BioTechnologies
iSense Medical Corp.
ISK Ltd
iSpecimen
ISRAC-Israel Laboratory Accreditation Authority
Israel Cancer Association
Israel Center for PM
Israel National Center for Personalized Medicine
Israel Trade CA
Israeli Industry Center for R&D
Israel Innovation Institute
ISSAC Corp
Istari Oncology
ITM Isotopen Technologien München AG
ITOS Oncology
Iverson Genetics
J&J Innovation
J. David Gladstone Institutes
J.P. Morgan
Jamii Health International
Janssen R&D
Japan Science and Technology agency
Jayco Personalized Medicine
Jaye Design
JBS Science Inc.
JCVI
Jennison Associates
Jerusalem BioPark
JHTV
JHU
JLB Enterprises
JMP Securities
John Innes Centre
John Muir Health Foundation
Johns Hopkins Bloomberg School of Public Health
Johns Hopkins HealthCare
Johns Hopkins Hospital
Johns Hopkins Medical
Johns Hopkins Technology Ventures
Johns Hopkins University, Applied Physics Lab
Johnson & Johnson Innovation
JoinCircles
Jones Day
JOOL Health
Journalist
Jounce Therapeutics
Jumpstart MD
Juno
Juntendo University
Juvenile Diabetes Research Foundation
K L Gates LLP
Kadimastem
Kailos Genetics
KAIMRC/MNGHA
Kaiser-Permanente
KAIST
Kalobios
KALON
Kaneka Americas Holding, Inc.
Kaneka US Innovation Cntr.
Kantor BioScience
Kaplan Medical Center
Karius DX
Kashi Clinical Laboratories
KAU
KDH Systems
Keck Graduate Institute
Kedge Ventures
kelaHealth, Inc.
KeterGroup
KEW, Inc.
KGI
Khoo Teck Puat Hospital
Khosla Ventures
KidDoc
Kilpatrick Townsend & Stockton
Kimball Family Foundation
KineMed
Kineticos Life Sciences
King & Spalding
King Abdulaziz University, Saudi Arabia
King Faisal Specialist Hospital
King's College London
Kirhla, Inc
Kiromic Biopharma
Kite, A Gilead Company
KIYATEC
Kleiner Perkins Caufield & Byers
Klick Health
Kneed Media LLC
Knight Cancer Institute – OHSU
Knobbe Martens Olson
KNOX Medical Diagnostics
Komen Advocates in Science
Komodo Health
Konica Minolta
Konkuk University Medical Center
Korea Advanced Institute of Science and Technology
Korea University Guro hospital
Kosha Group
KP Research Bank
KP Ventures
KP WA Health Research Inst.
KPCB
KPMG LLP
Kronick Consulting
KTH Royal Institute of Technology
Kymera Therapeutics
Kyoto University Hospital
Kyowa Hakko Kirin, Co.,Ltd.
L.E.K. Consulting
L7 Informatics
La Jolla Institute
Lab Stamboulian AR
LABBF
LabConnect
LabCorp
Labcures
Labcyte
Laboratory Start-Up Consultants
LabPMM, LLC.
Laidir Foundation
Lam Research Capital
Landa Corporation
Lark Technologies
Latinas Contra Cancer
lavi-medtech
Lawrence Livermore National Laboratory
Lazard
Legacy Health Strategies
Leerink Partners
Leiden University/Netherlands Metabolomics Centre
Lenovo
Lenus Group
LEO Pharma
Leomics Associates, Inc
Leukemia and Lymphoma Society
Leumi Silicon Valley
Levine Cancer Institute
Levine Media Group
Levitec Health
Lexent Bio
Lextron Systems, Inc.
LG Chem, Life Sciences
Li Ka Shing Institute of Health Sciences
LI-COR Biosciences
Life Length
Life Letters
Life Sciences Foundation
Life Science Tech, Imec
Life Technologies
Lifecode, Inc.
LifeEDIT
LifeMap Sciences, Inc.
LifeMap Solutions
LifeOmic
LifeScan
LifeWave
Ligandal
Lighthouse Capital Partners
Lighthouse Lab Services
Lightspeed Venture Partners
Lightstone Ventures
Lillebaelt Hospital
Lilly Research Labs
Linkage Biosciences
Liquidia Technologies
Livongo Health
LLNL
Lockheed Martin
Locus Development
Lone Pine Capital
Long Health Care Consulting
Longitude Capital
Loop Genomics
Lorac Associates
L'Oréal
Lotus Translational Medicine
Loxo Oncology
LSP Group LLC
Lucile Packard Children's Hospital
Luidia
Lumiata
Luminex Corp.
LunaDNA
Luna Innovations Inc.
Lunit
Lung Cancer Foundation of America
Lux Capital
Luxembourg Trade and Investment Office
LYFE Capital
Lymphoma Hub
Lymphosight, Inc.
M.D. Anderson Cancer Center
M2K
M2Gen
Maccabi Health Services
Machinify
Macrogen Corp.
Macrogen Clinical Lab
MacroGenics
MagArray
Margaretta Colangelo Ventures
Mark III Systems, Inc.
Market Ready Rx , Inc
Marketing & Communications Strategy
MarkMonitor, Inc.
Marshfield Clinic Research Inst.
Marx Biotechnology
Maryland Primary Care Physicians
Massachussets Gen. Hospital
MATMON ENTERPRISES LLC
Matrix Capital Management
Mawi DNA Technologies
Max Planck Institute
Mayo Clinic
MBHB
McDermott, Will & Emery
Mcevoy & Farmer
McGill University
McGivney Global Advisors
McKesson
McKinsey & Company
MCTP University of Michigan
MCW
MD Anderson Cancer Center
MD Labs
MDA
MDPrevent
MDV (Mohr Davidow Ventures)
MDVIP
ME/CFS Initiative
Meander, Inc.
Medasense Biometrics
Medcan Clinic
MedCity News
Medco Health Solutions
Medco Research Institute
MedCompGx
MedCPU
Medgadget
MedGenome Inc.
MEDgle
MEDgomics, LLC
Medi-Build International
Median Technologies
Medic Affairs Consulting LLC
Medica Venture Partners
Medical Affairs Consulting
Medical College of Wisconsin
Medical Device Daily
Medical Hope Productions
Medical Metrics
Medical Research Council
Medical Tactile
Medical Translations
Medical U. of South Carolina
Medidata Solutions
MediCope
Medigene AG
MedImmune
Medimsight
Medinnovo
MediSapiens
Medison Pharma
Medivation
MedLever, Inc.
Medline Industries, Inc.
Mednet
Medomics
MedPage Today
Medscape
med-shiran
MedStars
MedWorld Advisors
MedySapiens, Inc.
Meharry Medical College
MeMed Diagnostics Ltd
Memorial Sloan Kettering
Menarini Silicon Biosystems
Mendel Health
Mendelspod
Menlo Ventures
Merck & Co.
Merck KGaA
Merieux Developpement
Merrimack Pharmaceuticals
Metabolon
Metagenics
Metamark Genetics
MetaOption
Methodist Hospital of Chicago
Meuchedet
MGH Harvard Medical School
MGH Heart Center
Miami Cancer Institute
Mianou
MiCareo Inc.
MichBio
Michigan Medical School
Michigan Medicine
Michigan State University
Micromedic
Microsoft
Milken Institute
Millennium Health
Millennium: The Takeda Oncology Co
Million Veteran Program
MilliporeSigma
MiNDERA Dx
Minimally Invasive Surgical Solutions
Ministry of Economy, Israel
MintHealth
MIODx
MioKun Biotech.
MIRA Medicine
Miramar Venture Partners
Mirna Therapeutics
Miroculus Inc
Mission Bio
MIT
MIT Sloan School of Management
Mithril Capital Management
Mitra Biotech
Mitsubishi Corporation
Mitsui & Co. (U.S.A.) Inc.
Mitsui Global Investment
Mitsui Knowledge Industry Co.
Mitsui USA
Mizuho Information & Research Institute
MLL Munich Leukemia Laboratory
MMRF
Mobile Nations / HAPILABS
Model Arsenal, LLC
Modern Healthcare magazine
Moderna
Moffitt Cancer Center
Mohr Davidow Ventures
Molecular Diagnostics
Molecular Health GmbH
Molecular Image, Inc
Molecular Response
Molecular Stethoscope
Molecular Testing Labs
MolecularMatch
MolecularMD
MolecularQuant Consulting
Moleculera Labs
Moleculo (acq. by Illumina)
Molquant, Inc.
Momenta Pharmaceuticals, Inc.
Monitor Deloitte
Monroy Consultants
Montreal InVivo
Mor Research Applications
Moral Compass Corporation
Morgan Rossiter
Morgan Stanely
Morgenthaler Ventures
Morphotek, Inc.
Morrison & Foerster LLP
MOS
Moscow State Medicine University
Mount Sinai School of Medicine
Mountain View Pharmaceuticals, Inc.
Mountain View Voice
MPM Capital
MRC Oxford Institute for Radiation Oncology
MRL Labs at Merck
MS Ventures (Merck Serono)
MSD
Mubadala Health Care
Muir Partners
Multerra Bio
Multiple Myeloma Research Foundation
MUSC
Muse Asset Management
MV Pharmaceuticals
MWan Consulting
MyeloRx
MyHeritage Ltd
Mynd Analytics
MyoKardia
Myraqa
Myriad RBM
MySDScience
myTomorrows
N-of-One Therapeutics, Inc.
N.D.M-L.L.C
Nabsys
Nahigian Strategies
Nanjing University
Nano Imrad Technology, Inc.
Nanocell Diagnostics
Nanodimension
Nanoquantum Sciences, Inc.
NanoString Technologies, Inc.
Nanotech Biomachines
NaNotics,LLC
NanoViricides, Inc
NantHealth, Inc.
Nantworks
NASA Ames Research Center
Natera, Inc.
National Biomarker Development Alliance
National Cancer Centre Singapore
National Cancer Institute
National Institutes of Health
National Jewish Health
National metrology institute of Japan/AIST
National Nuclear Security Administration
National Research Council of Italy
National University of Health Sciences
Nationwide Children's Hospital
Natural Molecular Testing Corp.
Natural Products Group
Nature Biology
Nature Biotechnology
NavDx
Navican
Navigenics
Navigo Proteins GmbH
Navio
NBC News
NBDA
NBSO
NBTY, Inc.
NC Biotech Center
NC COIN
NC Rare Disease Innovations Institute
NC State University
NCBIO
NCI SBIR Dev. Center
NDPH, University of Oxford
NEA Ventures
Nebion
Nektar Therapeutics
NeoGenomics Molecular Lab.
NeoMark Ventures, Inc.
Neon Therapeutics
Neopharm Group
NERx Biosciences
Netherlands Consulate
Netherlands Metabolomics
Netherlands Science & Tech.
Neurotrack
New Biology Ventures, LLC
New Century Healthcare Institute
New Leaf Venture Partners
New York Genome Center
New York Times
Nextar
NextGen Jane
NextGxDx
NHGRI/NIH
NHSA
NIAID/DAIT
Nicklaus Children's Hospital
NIH
NIH/NCBI
NIH/NCI
NIH/NCI/SBIR
NIH/NIAID
NIH Human Microbiome Project
NIKE INC.
Nikon Research Corporation of America
Nirmidas Biotech, Inc.
NIST
Nixon Peapody
Nodality Inc.
Nodexus Inc.
Noona Healthcare
North Carolina Biosciences Organization
North Carolina Biotechnology Center
North Carolina Health News
North Carolina Hospital Association
North Carolina State University
North Cypress Operating Co
Northeastern University
Northern Biologics
Northern California Melanoma Center
NorthShore University Health System & University of Chicago
Northwest Medical Speci.
Northwestern University
Norwest Venture Partners
Notable Labs
Nova Bioreports
Novant Health
Novartis Dx
NovellusDx.
Novigenix SA
Novodiax Inc
Novogene Bioinformatics Technology Co., Ltd
NPR, Biotech Nation
NRGene
NSGC
NSV
Nueon Inc.
NuGEN
NuMedii, Inc.
Numenta
Numerate, Inc
NuPGA™ Corporation
NUS/USC
NuView Life Sciences
NVIDIA Foundation
O.L.S Ventures
Oak Health Partners, LLC
Oak Ridge National Laboratory
Oakland University
Ocimum – Gene Logic
Octave
Ocular Dynamics
Odgers Berndtson
Ogilvy
Ohio State University Medical Center
OHSU
Okava, LLC
Okayama University SV Office
Oklahoma Medical Research Foundation
Olink Proteomics
Omicia
OmicsLab Ltd.
Omixon
Omixy
Omnity
Omrix
Oncobox
OncoDNA
OncoHealth Corp.
OncoMed Pharmaceuticals
Oncompass Medicine
OncoResponse
One B Group, LLC
One Disease at Time
One Medical
OneThree Biotech
On-Q-ity
Ono Pharam Korea
Onshore Capital Fund
Ontario Genomics Institute
Onyx Pharmaceuticals
Open Medicine Foundation
Open Medicine Institute (OMI)
OpenClinica, LLC
Oppenheimer & Co.
Optimata Ltd.
OptumInsight
Opus 12
Opus Three LLC
Oracle Health Sciences
OraSure Technologies
OrbiMed
Orbotech Ltd.
Oregon Bioscience Association
Oregon Health & Science University
Oregon State Honors College
Oregon State University
O'Reilly Media
Organ-I
Orgenesis Ltd.
Orion Health
Orlucent
OSF Saint Francis Med. Ctr.
Oslo University Hospital – Institute for Cancer Research
Otopy
Otsuka Pharmaceutical
OWKIN
Oxeon Partners
Oxford Academic Health Science Network
Oxford BioDynamics
Oxford Biomedical Research Centre
Oxford Brookes University
Oxford Gene Technology
Oxford Nanopore Technologies Ltd
Oxford University
Oxford University Hospitals
P2i
P4ML
Pacific Bay Investment
Pacific Biosciences
Pacific Graduate School of Psychology
Paladin Capital Grp
Palisades Associates
Palmetto GBA/MolDX
Palo Alto Medical Foundation
Palo Alto Research Center
Palo Alto VA
Pamlab
Panacea Research
Panaceutics
Panasonic Healthcare Corp. of North America
Pangenia Lifesciences Ltd
PanGenX
Pappas Capital
Parabricks
Paradigm Diagnostics
Paragon Genomics, Inc.
Parasight
Parexel
Parker Institute
Partners HealthCare Biobank
Partners in Personal Oncology
Path-Tec
PathAI
Patheon
Pathway Genomics
Pathwork Diagnostics
Patient Advocate
Patient and Partners
Patient Crossroads
Patient-Powered Health and Research Advocate
Patients Like Me
PCAB
PCORI
Penn Medicine
PeopleConnect
Peptifarma, Inc
Perella Weinberg Partners
Perelman School of Medicine at the University of Pennsylvania, Penn Medicine
Perfect Circle Consulting
Perfect Form
PerkinElmer
PerkinElmer Genetics, Inc.
Perkins Coie LLP
Perlstein Lab
Permesys
Persistix Compass
Personaalmeditsiin
Personal Genome Diagnostics
Personalis, Inc.
Personalized Diagnostics, Inc.
Personalized Healthcare Alliance
Personalized Healthcare & Biomarkers, Astrazenaca
Personalized Lifestyle Medicine Inst.
Personalized Medicine Coalition
Personalized Medicine Partners
Personalized Science LLC
Personomics
PetaGene Inc
Peter Lougheed Hospital
Peter MacCallum Cancer Ctr.
Petrushka Investments LLC
Pfizer
Pfizer Oncology
Pharma Arkin Holdings
Pharma Incubator Ruturx
Pharma Israel
Pharmacenter Ltd
Pharmaceutical Business Intelligence
Pharmacogenetics and Strtaified Medicine Network
PharmaCRO, LLC
PharmaJet
PharmaNet
PharmGKB, Stanford University
Pharm-Up
PHEMI Health Systems Inc
PhenoMx, Inc.
PHG Foundation
Philips
Philips Healthcare
Philips/Oncology Informatics
Phoenix Children's Hospital
Phosphorus
Precision BioSciences
PhRMA
PhyloTech
Physic Ventures
PhysiHome
Physiosigns Inc
physIQ
PierianDx
Pillar Life Sciences
Pinch Bio LLC
PJC
PKI
PLC Diagnostics
PlexPress
Plexxikon
PLMI
PlumCare LLC
PlumCare Fabric Genomics
Pluristem
PM Alliance GmbH
PMI-R&D Neuchâtel Switzerland
PMSA
PMTV
PMWC
PMWC Team
PMWCintl
Polyremedy
Pontifax
Population Diagnostics UK, Inc.
Population Genetics Techn.
Poria Health
Portola Pharmaceuticals
Practice Fusion
PRB Operating Capital I LLC
Precision Biosciences
Precision For Medicine
Precision Medicine Initiative, GNS Healthcare
Precision Medicine Initiative Cohort Program (NIH)
Precision Medicine Student Alliance at UCSF
Precision Nanosystems
Precision Oncology
PreCyte, Inc.
PreDxion Bio, Inc.
Preferred Networks America
Premaitha Health
PREMIER Biosoft
Premier Inc.
Prenetics
Presage Biosciences
Prescience International
Prescient Medicine
Presidio Graduate School
PreventionGenetics
PricewaterhouseCoopers
Prime Genomics
Primity Bio Inc.
Princeton University
Prisma Biotech
Private Medical
Prize4Life
Prodia Clinical Laboratory
Professional Medical Insurance Services Inc
Progen Pharmaceuticals
Progenity, Inc.
PrognosDx Health
Project SEGMENTA & ghzl.ch
Prolog Ventures
Pronto Diagnostics
Proove Biosciences, Inc.
Prospect Venture Partners
ProterixBio, Inc
Proteus Biomedical
Provia Biologics
Providence Diag.
Providence Health
Providence St. Joseph Health
Provista Diagnostics
PRTM Management Consultants
PRx, Inc
Psilos Group
Puma Biotechnology
Purdue University
Q2 Lab Solutions
Q2 Solutions, Quintiles Quest Joint Venture
QB3
QIAGEN
QuanDx Inc.
Quantapore Inc.
Quantgene Inc.
Quantum Leap Healthcare Coll
Quest Diagnostics
QUIBIM
Quintara Discovery
Quintiles
QuintilesIMS
Qvella Corporation
R&R Research
R-Pharm
Rabin Medical Center, Campus Beilinson
RAD BioMed Accelerator
Rad Onc Group
RadLogics
Rady Children's Hospital
Rainbow BioScience, LLC
Rainbow Diagnostics
RainDance Technologies
Ram Group PTE LTD
Rambam Medical Center
Randox Laboratories
Rapid Science
Rappaport Research Institute, Technion
RARE Science
RareCyte
RBC Capital Markets
RCUH
RDRibitzky
RE10
ReadiSorb
Reagan Marketing & Design
Real Time Genomics
Real X Software
RealTime Oncology
Recombinant By Deloitte
Recombine
Recursion Pharmaceuticals
Redbud Labs
Redwood Ventures
Regenerative Medicine Institute, Cedars-Sinai Medical Center
Regeneron Pharma.
Regeneron Genetics Center
REI Medical
Reinhold Cohn Group
Relypsa
RENCI
Reneau Associates, Inc.
RenovoRx
Research Dev. Office – UCSF
Research Pathologist
Resilient Biotics
Response Genetics
Restoration Robotics, Inc,
Reva Capital
ReviveMed
RGA
Rheonix,Inc.
Ricerca Biosciences
Richner Consultants,LLC
Riken Genesis
Ripple Science
RMS
Robert Bosch LLC
Roche
Roche Diagnostics
Roche Innov. Center Shanghai
Roche Molecular Systems Inc
Roche Sequencing Solutions
Roche Tissue Diagnostics
Rock Health
Romania's Center for Innovation in Medicine
Rondinx
Root Deep Insight
RootHealth
Rosetta Genomics
Roswell Park Cancer Institute
Rotman Consulting
Rouen University Hospital
RR Consulting
RRD International
RS Technology Ventures
RSA
RSG Group
RSN Enterprises
RTI International
RUCDR Infinite Biologics
Russell Reynolds Associates
RxDxLink
Sackler Faculty of Medicine
SAGA Diagnostics
Sage Bionetworks
Sage Human Capital
SAGE Patient Advocates
SageMedic
SAIC-Frederick, Inc.
Salesforce
Salgomed
Salit Public Relations
Samsung Genome Inst.
Samsung Med. Center
Samsung Open Innovation
Samumed, LLC
San Diego Blood Bank
San Francisco Business Times
San Francisco Center for the Book
San Francisco State University
San Jose BioCenter
San Jose State University
San Mateo Community College District
San Mateo County
San Mateo/FosterCity Schools
San Ysidro Health Center
Sandbox Industries
SandBox Ventures, LLC
Sandell and Sleep MDs
Sandia National Laboratories
Sandstone Diagnostics
Sanford Burnham Medical Research Institute
Sanford Health
Sanford Rose Assoc -The Toft Group
Sangamo Therapeutics
Sano
Sano Informed Prescribing
Sanofi-aventis
Sansum Medical Clinic
SAP AG
SAP Labs
SAP Ventures
Saphetor S.A.
Sapientiae
Sarah Cannon
Sarah Cannon Research Institute
SAS
Savor Health
SBA Materials Inc
Scaled Biolabs
Scanadu
SCGPM, Stanford University
Schneider Children's Medical Center of Israel
SCHOTT AG
Science 37
Science Buddies
Science Exchange
Science for life extention
Science for Life Laboratory
Science Practice
Science Translational Medicine
Scienion US Inc
Scientia Advisors LLC
Scientific Exchange
Scientist.com
Scil Proteins GmbH
Scion Asset Management
Scottish Development International
Scripps Health
Scripps Research Institute
SCTyx
SDIX
SDL Ventures
Seattle Genetics
Sechenov University
Second Genome, Inc
Second Opinion
Seegene Inc
Select Biosciences UK
Self
Selventa Inc
Selvita
Sema4
Senti Biosciences
Sentieon Inc
Seoul National U. Hospital
Seoul National University College of Medicine
Seoul St. Mary's Hospital
Sequence Bio
Sequenom
Sequenta
Sequoia Capital
SeraCare Life Sciences
Seres Therapeutics
SerImmune
Seven Bridges Genomics
Severance Check-up, Yonsei University Health System
Sevident Inc.
SF Business Times
SF Examiner
SF State University
SGI
SGI/HPE
Shaare Zedek Medical Center
Shaarei Zedek
SHC / CEPD
Sheba Cancer Research and Medical Center
Sheba Hospital
Shenzhen GeneHealth Bio Tech Co.
Sheppard Mullin LLP
Shibolet & Co. Advocates
Shire Plc
SHL Telemedicine
Shrewd Consulting
Siemens Healthcare Diagnostics, Inc.
Siemens Healthineers
Siemens VC
Sierra Sciences
Sidney Kimmel Comprehensive Cancer Center
Sigma-Aldrich
Sigmed, Inc.
SignPost Cancer Dx Inc.
Silicom Ventures
Silicon Biosystems
Silicon Graphics
Silicon Valley Biosystems
Silicon Valley/San Jose Business Journal
Silicon Valley U.S. Export Assistance Center
Simon Fraser University
Simon-Kucher & Partners
Simpatica Medicine, Inc.
Singularity Hub
Singularity Univ. / Exponential Medicine
Singulex
Siolta Therapeutics
siParadigm
SJA Healthcare Strategies
Skolkovo Foundation
Skyline Ventures
Skyscape Cloud Services
Slone Partners
Smart Assays
Smart Patients
SmartGene, Inc.
Smartlens
SmartNuclide Biotech
Smartnuclide/BioNovoGene
SMS-IC
SNPgenomics
Soar BioDynamics
Soar Technology, Inc.
Social & Scietific Systems
Sofie Biosciences
Sohag University Egypt
Sol Chip Ltd
Solve, Inc.
Solve ME/CFS Initiative
SolveBio
SomaLogic, Inc.
Somerset Consulting
Sony Biotechnology
Sony Corporation
Sony DADC
SOPHiA GENETICS
Soroka Medical Center
Soteria PM Advisory
South Carolina Research Studies Directory
South Coast Gynecologic Oncology
South University of Science and Technology of China
Southwest University
SP Corporation
SparCBio
Spark Public Relations
Spartanburg Regional Healthcare System & Guardian Research Network
Spaulding Rehabilitation Hospital
Spcefill Enterprises LLC
Speak.MD
Spectral Imaging
Spectrum Health Ventures
Sphinx-Tech
Spin Bio, LLC
Spiral Genetics
Spirox Corporation
SRI International
St Anne's College, Oxford
St George's, University of London
St. John's Medical Center
St. Joseph Mercy Health Sys.
St. Jude Children's Research
Standigm
Stanford & LPCH
Stanford / Guest Services
Stanford Biomedical Informatics
Stanford Bio-X
Stanford Byers Eye Inst.
Stanford Cancer Genetics Clinic
Stanford Cancer Institute
Stanford Center for Biomedical Ethics
Stanford Center for Genomics and Personalized Medicine
Stanford Center for Law and the Biosciences
Stanford Center of Genomics
Stanford Children's Health
Stanford Clinical Genomics Service
Stanford Concierge
Stanford Dermatology
Stanford Engineering
Stanford GBSC
Stanford Genome Technology Center
Stanford Genomic and PM Center
Stanford Genomics
Stanford Health Care
Stanford Medicine
Stanford Office of Technology Licensing
Stanford Population and HS Center
Stanford School of Medicine
Stanford Sleep Clinic
Stanford Undiagnosed Diseases Center
Stanford University
Stanford U. (Snyder Lab)
Stanford U. Blood Center
Stanford University Radiation Oncology
Stanford/UCSF
Stanley Consulting
Star Lab, Corp
STAR PR Company
Startrise
Start-Up/Elsevier
State of Nevada/UNLV
Statera Health
Station X
stem cell medicine
Stem Cells Inc.
StemBANCC
StemCyle
Sterne, Kessler, Goldstein & Fox PLLC
Steuart Ventures
Stilla Technologies
Strand Genomics
Strand Life Sciences (P) Ltd.
Strata Oncology
Stratagem
STRATEC Biomedical AB
Strategem
Strategic Edge
Strategic Facilities Planning
Strategic SourcingBiogen
Stratified Medicine Scotland
Structure Capital
Sue Rowinski Group, LLC
Summation Health Ventures
Sun Genomics
Sungevity
SunPower Corp
Sunquest/GeneInsight
Sunquest Information Sys.
Superior Science Docs
SurExam
Survivor and Advocate
Sutherland Life Sciences
Sutro Biopharma
Sutter Health
Sutter Hill Ventures
Sutter Research Enterprise
SV Biosystems
SVP BGI Research
Sway Production
Swedish Cancer Institute
Swift Biosciences
SwitchGear Genomics
Syapse
Sycomp
Synapsis Search
Synchrogenix
Synergenics
Synexa Life Sciences
Synteny
SynteractHCR Inc
Synthego
Synthetic Biologics
Synthetic Chemistry
Sysdep
Sysmex
Sysmex Inostics
T2 Biosystems
T3 – Technion Technology Transfer
TA Sciences
Taburit
tagb.io
Taibah University
Takara Bio USA Inc.
Takeda Pharmaceuticals
Takeda San Francisco
Talon Biosystems
Taproot Health
Target Discovery Institute, University of Oxford
Target Discovery, Inc.
Target PharmaSolutions
Targos Molecular Pathology GmbH
Tartu University Hospital
TASMC
Taube-Koret Center for Huntington's Disease Research; Gladstone
TCellCo
Teal Lion LLC
Tecan
Tech Business News
TECH Market Communications
TechNewsWorld
Technical University of Denmark
TechnicSolutions LLC
Technion
Techonomy
TechPulse360
TechPulseMD
TechSem, Inc
Teifeld & Co. Insurance Services
Tekla Capital
Teklicon
Tel Aviv Sourasky Medical Center
Tel Aviv University
Tel Hashomer Hospital
Telegraph Hill Partners
Telethon Institute
Telome Health
Temple Health
Tempus, Inc.
TenCure
Terapia Metabólica
TerumoBCT
TeselaGen Biotech
Tethys Biosciences
Teva Pharmaceuticals
tGen
The Angels' Forum
The Association of the British Pharmaceutical Industry
The BioCollective
The Broad Institute
The Caldwell Partners
The Center for Personal Medication Advise
The Christ Hospital
The Dark Report
The Doctor Weighs In
The Ellison Institute of USC
The Experimental Man
The Financial Times
The Finnish Innovation Fund SITRA
The Fun Quantum
The Integrated Cancer Prevention Center
The International Center for Cell Therapy & Cancer Immunotherapy (CTCI)
The Journal of Precision Medicine
The National Institute of Mental Health
The Leukemia & Lymphoma Soc.
The Nazarath Hospital
The NHSA
The Nicholas Conor Institute
The Observer
The Ohio State University
The Raphael Recanati Medical Genetics Institute
The Rockefeller University
The Royal Marsden
The Schnauzer Logic Radio Co.
The Scientist
The Sonnenburg Lab
The Sorensen Group
The TC
The Technion Genome Center
The Translational Genomics Research Inst.
The University of Tokyo
The West Cancer Center
Theranos
TheraOne, Inc.
Therapak Corporation
THERAPLAY kids
Theravance Biopharma
Thermo Fisher Scientific
Thiel Foundation
ThinkingNode, Inc.
Third Rock Ventures
Thomas Jefferson University
Thomson Reuters
Three Lakes Partners
THRIVORS
Tiara Pharmaceuticals
Tiatros
Timocco
Tiselia
Tizona Therapeutics
TMDx Consulting LLC
Tocagen
Toft Group Executive Search
Toldot Genetics Ltd.
TOMA Biosciences
Tomy Digital Biology
TOPPAN PRINTING CO., LTD./Toppan Technical Research Institute
Torch Communications
Towers Legal Consulting Corp Ltd
Toyota Tech. Inst. at Chicago
TPG Biotech
TPMG
Trace Genomics
Transgenomic
Translational Medicine at Adaptive BiotechnologiesBio
Translational Software
Transnetyx
Transplant Genomics
Treato
Treehouse Childhood Cancer Initiative (UCSC)
Treos Bio
Tri Alpha Energy
Tri Alpha Medical
Triangle Business Journal
Trianni, Inc
Tricore Reference Labs
Trinity
Triple Ring Technologies
TriplePoint Capital
TriVentures
Trovagene
True BioSystems
Tulane Medical Center
Tulos Consulting
Tute Genomics
Twist Bioscience
Two Pore Guys, Inc.
Two River Group
Two Sigma Ventures
twoXAR
Tyler Innovations
Tynan Consulting LLC
Tyto Care Ltd.
U of M Computational Medicine & Bioinformatics
U.S. Commercial Service
U.S. Department of Commerce
U.S. Department of Health and Human Services
U.S.-Israel Science and Technology Foundation
uBiome
Ubuntu LLC
UC Berkeley School of Public Health
UC Davis Genome Center
UC Davis Health System
UC Davis MIND Institute
UC Davis School of Medicine
UC Hastings
UC Irvine
UC San Diego
UC San Francisco
UC Santa Cruz
UC Santa Cruz Genomics Institute
UCB
UCHC
UCI Center for Autism
UCLA Cancer Institute
UCLA Institute of Child Health
UCLA Anderson
UCLA/EOW
UCSC
UCSC Genomics Institute
UCSD
UCSF
UCSF Breast Cancer SPORE Advocacy Core, Breast Cancer Connection, Komen Advocate
UCSF Breast Cancer SPORE Advocacy Core, Breast Cancer Connections, Lance Armstrong
UCSF Breast Oncology Program, Breast Science Advocacy Core
UCSF BSAC
UCSF Carol Franc Buck Breast Care Center
UCSF Catalyst Awards program
UCSF Center for Digital Health
UCSF Clinical Microbiology Lab
UCSF Helen Diller Family Cancer Ctr.
UCSF Entrp. Center
UCSF / Genentech
UCSF Innovation Ventures
UCSF Institute for Human Genetics
UCSF Inst Comp Health Sci
UCSF CPMC Res Inst
UCSF ITL
UCSF Medical Center
UCSF/School of Medicine
UCSF School of Pharmacy
UIC
UK Biobank
UK Government
UKTI Life Sciences
U-M Medical School
uMETHOD Health, Inc.
Umetrics
UMich CCMB
UNC
UNC Chapel Hill
UNC Charlotte
UNC Medical Center
UNIConnect
Unilever R&D
UniTaq Bio
United Bio-Research Inc
United BioChannels
UnitedHealth Group
United Therapeutics
University College London
University of Arizona
University of Birmingham
University of British Columbia
University of Calgary
University of Chicago
University of Cincinnati
University of Colorado School of Medicine
University of Florida
University of Florida/Molecular Genetics & Microbiology
University of Glasgow
University of Haifa
University of Illinois Cancer Center
University of Liverpool
University of Maryland College Park
University of Michigan
University of Michigan Center for Computational Medicine & Bioinformatics
University of Michigan College of Pharmacy
University of Michigan – School of Public Health
University of Michigan College of Pharmacy
University of Michigan Medical School
University of Minnesota
University of Nebraska
University of New South Wales
University of Oslo
University of Ottawa
University of Oxford – Wellcome Trust Centre for Human Genetics
University of Pennsylvania Health System / Penn Medicine
University of Pennsylvania Hospital
University of Pittsburgh
University of Puerto Rico
University of São Paulo Cancer Institute
University of Southern California
University of Tartu
University of Technology Berlin
University of Texas at Austin
University of Toronto
University of Utah/Gastroenterology Division
University of Victoria
University of Virginia
University of Washington
University of Western Australia
University of Windsor
UNOmaha
UPMC
Upsher-Smith Laboratories
UrologyDx
US Commercial Service
US Commercial Trade Service and Export
US Dept. of Commerce
US Food and Drug Administration
USANA
USC
USC Norris Cancer Center
USG
USISTF
UST Global
USUHS
USVP
UT Southwestern Medical Center
Uzia Initiatives and Management Ltd.
V6 Networks
VA Ann Arbor Health System
VA Palo Alto Health Care System
Vala Sciences, Inc.
Vanderbilt Precision Med. Ctr.
Vanderbilt University
Vantari Genetics
venBio
Venner Shipley LLP
Ventana Medical Systems, Inc.
VentureDeal
Veracyte
Verily Life Sciences
Verily Harvard
Verity Medical Foundation
Verinata Health
Veritas Genetics
Veritrix, Inc.
Versant Ventures
Vertex
Veterans Affairs Dept.
Vical
ViiV Healthcare
Vineti
VinsonTech
Viola Group
Viome
Vir Biotechnology, Inc
Virginia Commonwealth University
Virta Health
Virtual Physiological Human Institute for Integrative Research
VISA
VisionGate
Vista BioPharm Solutions
Vitagene
Vitalife Life Sciences Fund
Vitality Biopharma
VitaPath Genetics
Vitatex Inc.
Viviphi Ltd.
Vivo Ventures
VM Pharma/ VM Discovery
VM Service Inc.
Vortex Biosciences, Inc.
Voxel Studios
Vrije Universiteit Brussel
Wafergen
Wake Forest Baptist Health
Wake Forest Innovations
Wake Forest University Health Sciences
Walden International
Wanda
WAPG (Wealth Accumulation and Preservation Group)
Warburg Pincus
WARFARIN Study
Washington Research Foundation
Washington University
Waters Clinical
Waters Corporation
Wayne State University
WeBlogTheWorld
WeCancer
Weill Cornell Medical College
Weissman Lab (UCSF)
Weizmann Inst of Science
Weka.IO
Wellcome Trust Centre for Human Genetics's Centre for Personalised Medicine
Wellcome Trust Sanger Institute
WellnessFX
West Coast Metabolomics Lab
Western Galilee Hospital Naharia, Israel
White House Cancer Taskforce
Whitehead Institute for Biomedical Research
Wiley Systems, Inc.
William Blair & Company
Wiredmuse
WMU School of Medicine
Wolfson
Wolters Kluwer
Womble Bond Dickinson (US)
Womble Carlyle
Womble Carlyle Sandridge & Rice LLP
Women in Science (SF)
Workit Health
Worldview
WuXi AppTec
WuXi NextCODE
Wyrick Robbbins
Xcell Biosciences
Xconomy
Xconomy Detroit Ann Arbor
Xcoo
XDx Cardio
XIFIN, Inc.
XING Technologies
XRFILES, Inc
Xyphos, Inc
Yale New Haven Hospital
Yale University
Yeda R&D
Yissum – Hebrew University
Ymir Genomics
Yonder University
Yottabyte
YouRx
YouScript, Inc.
Zero Breast Cancer
ZionPath
ZipyCare